February 2021
A 3-year-old male presented with nontender gradually progressive cystic swelling over the scalp for 9 months.
Case contributed by –
Department of Diagnostic and Intervention Radiology, AIIMS, JODHPUR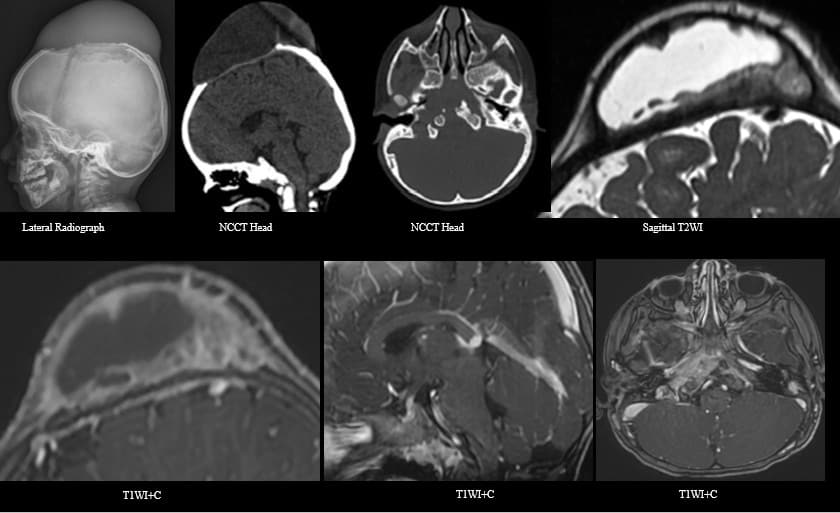 Radiograph of the skull showing large soft tissue swelling over the vertex with underlying bone erosion involving frontal and parietal bones with beveled edges.Non contrast CT brain shows a cystic scalp swelling with underlying bony erosion and erosion of petroclival synchondrosis.MRI-T2WI hyperintense large subperiosteal cystic lesion with peripheral soft tissue component with enhancement on post contrast T1WI.Enhancing and thickened pituitary stalk as well as enhancing soft tissue along right petrous apex and petroclival synchondrosis.
Final diagnosis –Langerhans Cell Histiocytosis
Langerhans cell histiocytosis (LCH) is a rare granulomatous reactive clonal monocyte-macrophage pathology that can involve multiple organ systems.
The CNS manifestation is characterized by a) granulomatous lesions involving the skull and craniofacial bones, hypothalamic-pituitary axis, choroid plexus, pineal gland, and meninges, b) non-granulomatous/neurodegenerative lesions characterized by symmetric lesions in the bilateral cerebellum and basal ganglia and c) atrophy.
The osseous involvement is seen as lytic lesions with beveled margins and little or no periosteal reaction. Associated cystic lesion though rare can be seen.
Differential diagnosis for pediatric cystic calvarial lesions are Langerhan cell histiocytosis, aneurysmal bone cyst, cephalhematoma and metastatic neuroblastoma.
47% of the pediatric cases show BRAF mutation associated with a more severe clinical course, resistance to chemotherapy, and an increased risk of relapse
References:
Prayer D, Grois N, Prosch H, Gadner H, Barkovich AJ. MR imaging presentation of intracranial disease associated with Langerhans cell histiocytosis. American journal of neuroradiology. 2004 May 1;25(5):880-91.
Nabavizadeh SA, Bilaniuk LT, Feygin T, Shekdar KV, Zimmerman RA, Vossough A. CT and MRI of pediatric skull lesions with fluid-fluid levels. American Journal of Neuroradiology. 2014 Mar 1;35(3):604-8.
Park H, Nishino M, Hornick JL, Jacobsen ED. Imaging of histiocytosis in the era of genomic medicine. RadioGraphics. 2019 Jan;39(1):95-114.